Items filtered by date: February 2023
Tuesday, 28 February 2023 00:00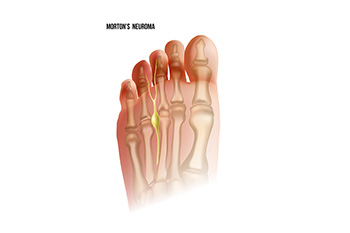 The pain from the foot condition which is known as Morton's neuroma is felt in the ball of the foot. Patients notice the sensation can feel like a pebble is in the shoe or sock and can be uncomfortable. A common reason why Morton's neuroma may develop can be from frequently wearing high heels. The small narrow toe box generally does not provide adequate room for the toes to move freely and can cause the nerve that lies between the third and fourth toes to become compressed and irritated. People who participate in sports such as tennis, running, and racquetball also may be prone to developing this condition. In severe cases, there may be a tingling or numbing sensation under the toes, and a burning feeling may radiate to the ball of the foot. An MRI may be suggested, and this is often helpful in ruling out an existing lesion. If you have symptoms of Morton's neuroma, it is suggested that you contact a podiatrist as quickly as possible who can help you with relief and treatment methods.
Morton's neuroma is a very uncomfortable condition to live with. If you think you have Morton's neuroma, contact Dr. Paul Drucker of NYC Foot Care, PC. Our doctor will attend to all of your foot care needs and answer any of your related questions.  
Morton's Neuroma
Morton's neuroma is a painful foot condition that commonly affects the areas between the second and third or third and fourth toe, although other areas of the foot are also susceptible. Morton's neuroma is caused by an inflamed nerve in the foot that is being squeezed and aggravated by surrounding bones.
What Increases the Chances of Having Morton's Neuroma?
Ill-fitting high heels or shoes that add pressure to the toe or foot
Jogging, running or any sport that involves constant impact to the foot
Flat feet, bunions, and any other foot deformities
Morton's neuroma is a very treatable condition. Orthotics and shoe inserts can often be used to alleviate the pain on the forefront of the feet. In more severe cases, corticosteroids can also be prescribed. In order to figure out the best treatment for your neuroma, it's recommended to seek the care of a podiatrist who can diagnose your condition and provide different treatment options.
If you have any questions, please feel free to contact our offices located in Manhattan, Plainview, Jamaica, Queens, and Fair Lawn, NJ . We offer the newest diagnostic and treatment technologies for all your foot care needs.
Read more about What is Morton's Neuroma?
Tuesday, 14 February 2023 00:00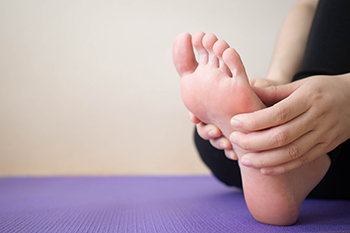 The feet undergo a great deal of wear and tear throughout a lifetime. For that reason, it is common for most people to experience some type of foot pain. Sprains and fractures are typical foot conditions that cause pain. In some cases, a bone in the foot will break, often the result of trauma, such as dropping something heavy on it. Sprains are caused by overstretching of a ligament when you land wrong on the foot. Hairline fractures are frequently the result of overuse, as may be experienced by runners or other athletes. A hammertoe can cause pain from rubbing the bone against the top of a shoe. This is caused by an imbalance between a tendon and a muscle in the toe, which makes the joint of the toe rise up. Pain in the ball of the foot, referred to as metatarsalgia, can be extremely painful. It is common among people who run and jump a lot and is often a side effect of a foot deformity, such as bunions, that changes the biomechanics of the feet. Improperly fitting footwear can also cause foot pain from corns, calluses, and blisters. If you are experiencing foot pain that will not go away or worsens, please consider seeing a podiatrist who can determine the cause and offer treatment solutions.
Foot Pain
Foot pain can be extremely painful and debilitating. If you have a foot pain, consult with Dr. Paul Drucker from NYC Foot Care, PC. Our doctor will assess your condition and provide you with quality foot and ankle treatment.
Causes
Foot pain is a very broad condition that could be caused by one or more ailments. The most common include:
Bunions
Hammertoes
Plantar Fasciitis
Bone Spurs
Corns
Tarsal Tunnel Syndrome
Ingrown Toenails
Arthritis (such as Gout, Rheumatoid, and Osteoarthritis)
Flat Feet
Injury (from stress fractures, broken toe, foot, ankle, Achilles tendon ruptures, and sprains)
And more
Diagnosis
To figure out the cause of foot pain, podiatrists utilize several different methods. This can range from simple visual inspections and sensation tests to X-rays and MRI scans. Prior medical history, family medical history, and any recent physical traumatic events will all be taken into consideration for a proper diagnosis.
Treatment
Treatment depends upon the cause of the foot pain. Whether it is resting, staying off the foot, or having surgery; podiatrists have a number of treatment options available for foot pain.
If you have any questions, please feel free to contact our offices located in 70th Street Manhattan, 60th Street Manhattan, Jamaica, Queens, Plainview, NY and Fair Lawn, NJ . We offer the newest diagnostic and treatment technologies for all your foot care needs.
Read more about Foot Pain